For those looking to invest in the stock market, Finviz screener is one of the best stock screeners. It provides a multitude of screening options that can be used to narrow down stock choices. These include fundamental criteria like market capitalization, dividend yield, earnings per share (EPS), and many more. Technical criteria such as chart patterns, performance metrics, and technical indicators are also available. The screener has become a reliable companion for stock traders.
Overview of Finviz Screener
Without a doubt, Finviz Screener is more than just a stock screening platform; it's a comprehensive repository of stock market data available for stock traders. This platform stands out for its user-friendly approach and offers extensive data, charts, and market insights. Whether you are a beginner or a seasoned trader, the screener acts as your navigation system. It pinpoints opportunities in the stock market and offers critical insights. The careful attention to detail and the range of information available make the Finviz screener a staple for anyone involved in stock trading.
Basic Features Of Finviz Screener
Let's dive into some of the basic features of Finviz  Screener.
Descriptive
Finviz's descriptive feature provides a concise snapshot of a company's profile. It goes beyond presenting raw data and offers a meaningful perspective on market cap and sector elements. This concise information lays the groundwork for understanding a company's standing in the market, which is invaluable for any stock investor.
Fundamental
The fundamentals analysis is the most important aspect of stock trading. The Finviz's Fundamental feature provides a deeper understanding of a company's financial health. These features shed light on critical aspects like the P/E ratio and dividend yield, which are the backbone for understanding a company's financial stability.  For example, buying Tesla's stock would require complete fundamental analysis, which will take only a few minutes on the Finviz  screener.
Technical
Finviz's technical features focus on analyzing price movements for evaluating market trends. These features, such as moving averages and relative strength, are essential to understand market dynamics and price fluctuations. These technical insights allow stock investors to formulate strategies and more accurately anticipate market movements.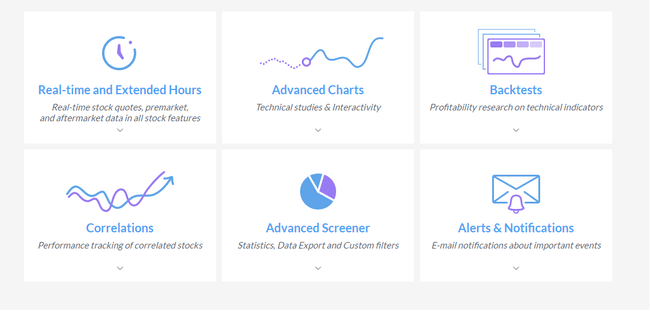 Advanced Features Of Finviz Stock Screener
Now, Let's look at some of the advanced features of Finviz Screener.
Elite Features
The Finviz Elite members enjoy advanced features, including sophisticated charts
and real-time quotes. These elite features elevate the trading experience and provide a more in-depth look at market trends and movements. Ultimately the elite features enable stock traders to create high-yielding investment strategies.
Real-Time Data
Access to real-time stock data helps stock investors stay informed of current market condition
s. More importantly, it empowers traders to make timely investment decisions and grab opportunities as they arise. This real-time insight is important to operate in the fast-paced stock markets and maximize returns.
Backtesting
Finviz's backtesting feature is a gem and cornerstone for developing robust trading strategies. It enables traders to test trading strategies against historical data, which leads to refining and optimizing their strategies. It sheds light on how a strategy would have performed in the past, which is pivotal for anticipating future performance.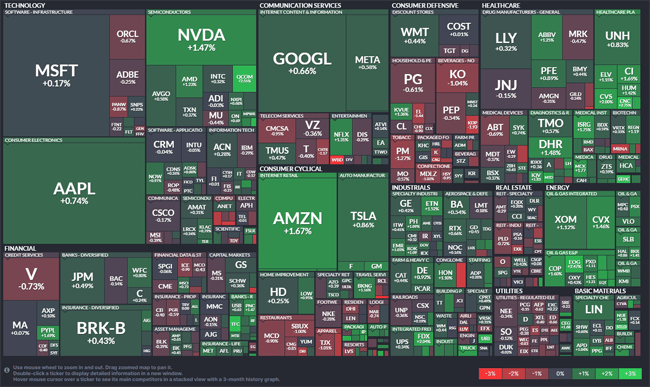 Setting up Stock Filters
Finviz provides unparalleled filters to screen the stocks. Investors can easily set various filters to their criteria to screen stocks and focus on results to match their chosen parameters. This step is important to narrow potential investment opportunities and benefit from a personalized and efficient investment experience.
Interpreting Fiviz Stock Results
Once filters are applied, Finviz will screen the stocks, and it's time to interpret the results. This step thoroughly analyzes the stocks compatible with the investor's objectives and strategies. It is a critical stage where users analyze the details of each stock and carefully weigh their options. Moreover, it helps investors understand each stock from fundamental to technical aspects and clarifies the final decision.
Creating a Stock Portfolio With Finviz Screener
Creating a stock portfolio with a Finviz  screener is a seamless process. Users can easily save and monitor their selected stocks. This feature facilitates ongoing performance monitoring and enables stock investors to adjust and track their investments. It also ensures a systematic and efficient approach to managing your stock portfolio.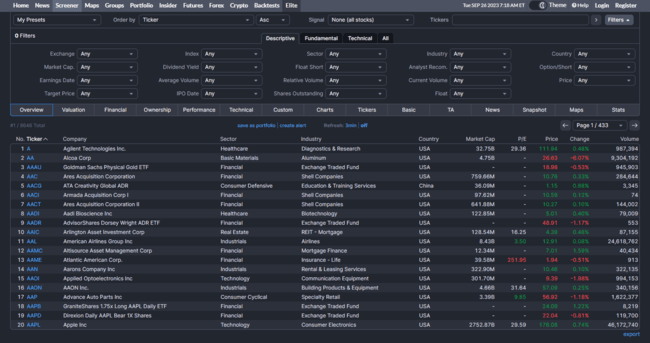 Why choose Finviz Stock Screener?
Why choose the Finviz  Screener from the numerous tools available? The answer lies in the combination of comprehensive data analysis. It has an easy-to-use interface and extensive customization. It also provides several advanced analysis options and allows investors to navigate the complexities of stock trading easily. The Finviz platform is not just a tool; it's a companion that helps Investors break down the complexities of the stock market. Let's review Finviz data analysis tools, its user-friendly interface, and customization options individually.
1- Comprehensive Data Analysis
Finviz is a market leader in stock market data analysis. It lets investors dig deeper into stock performance and analyze each element precisely. This analytical power of the platform helps stock traders extract key information essential for the right decision-making. In short, the rigorous data analysis feature makes Finviz stock screener an invaluable ally in stock trading.
2- User-Friendly Interface
Finviz prides itself on its easy-to-use interface. It provides smooth navigation and a hassle-free experience for stock traders, whether beginners or experienced. The interface adapts to investor's needs and makes it easy to explore the stock market. The simplicity and depth maximize investors' benefits with minimal complications, making it a preferred choice for many.
3- Customization and Advanced Analysis Options
Finviz offers many customization and advanced analytics options. These options allow stock investors to tailor their experience to their needs and preferences, from setting custom filters to using advanced analytics tools. Finviz offers the flexibility to create a unique user experience. This customization extends to the available analytics options and allows stock traders to dig deeper and gain more insights to create strategies that are truly unique to them.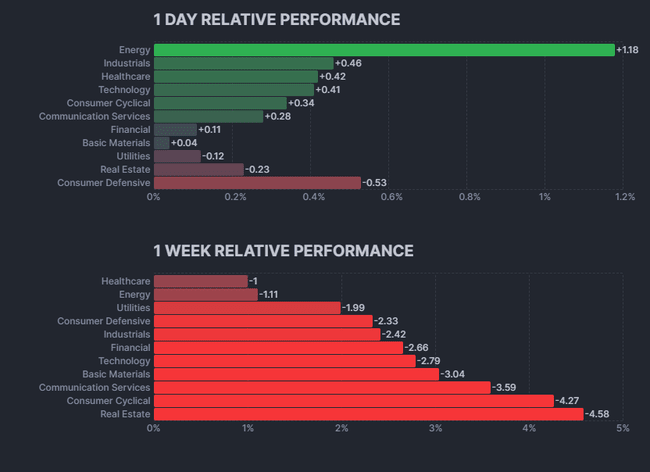 Finviz Comparisons with Other Stock Screeners
A comparison of Finviz Screener with other stock screeners, such as Yahoo Finance and TradingView, reveals its distinctive features and benefits. Each platform has its unique offering, but Finviz stands out for its rich visualization tools and numerous screening options. It offers in-depth analysis and easy-to-use navigation and provides a balanced experience for investors who want to understand the stock market's difficulties.
Finviz vs. Yahoo Finance
Finviz Screener and Yahoo Finance are important tools in the financial world. However, they meet different needs. Finviz excels at providing in-depth visualization tools, while Yahoo Finance is a hub for comprehensive financial news reporting. This difference highlights the varied approach of each platform. Finviz is ideal for those looking for in-depth analytical information, and Yahoo Finance is a comprehensive source of financial news and updates.
Finviz vs. TradingView
TradingView is another major player in the stock screener landscape. It is known for its social trading features. Which allows Investors to share and learn from each other. However, when it comes to comprehensive detection tools, Finviz holds its own. Finviz's emphasis on detailed analysis and user-friendly interface makes it the preferred choice for those looking to dive deeper into stock screening.
FREE FOREX TRADING COURSE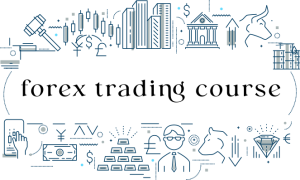 Finviz Pricing  & Subscriptions
Finviz ensures it is accessible to many users by offering a free version and an elite plan. This tiered approach allows users to choose the plan best suits their needs and preferences. Whether you are a beginner looking to explore or an experienced trader looking for advanced tools. There is a suitable option available.
Free Version
The free version of Finviz is comprehensive and a beginner's gateway to the world of stock trading. It provides basic discovery tools and information to help users familiarize themselves with the platform and gain basic knowledge. This shows that Finviz wants to help people just starting to trade stocks.
Elite Subscription
For those looking for more, an Elite subscription opens the door to advanced features, real-time data, and advanced analytics. This subscription is intended for advanced investors who want deeper analysis and a wider range of tools at their disposal. It's a portal for experienced traders to get insights and tools for informed decisions.
Conclusion
Finviz emerges as a powerful and user-centric tool in a highly competitive stock screeners market. It offers a ton of user-friendly features and in-depth analysis of the stock markets. The versatility and depth make the Finviz screener a trusted companion for traders. More Importantly, the Finviz platform suits new and experienced traders. Lastly, Finviz is reasonably priced, making it worthwhile for everyone.